I have seen a large increase in complaints about Google Business Profile (Google My Business) ownership/access requests and actual "hijacked" profiles.
Basically, the scam can be one of the following 2 ways:
1st
Scammers may send you a fake email from Google and ask for login information. So beware and do not press any link just yet, continue to read this article.
2nd
However, the most prevalent way it's through Google Business Profile "Request Access" feature.
Anyone can claim ownership! And after 3 days, they might have the option to claim the listing for themselves if you don't act.
I hope this article helped you.
If you need further help, I am here for you. It does not matter if it's your business or you are a professional that wants help with a client case:
It all starts when you receive an email similar to the below example, asking you to review the request and with the details from someone you don't recognise.
Email content: Someone has requested ownership of "Your business name" on Google My Business/Google Business Profile.
Please do not be hasty pressing the "Review request" button as it could be a fake email.
How to Reject a Google Business Profile Access Request:
Before clicking on the "Review request" button, check the sender email address
Check the forwarded URL
Select "Reject Request"
Reject the access request – detailed step by step:
1. Please, before clicking on the "Review request" button, check the email address as it could be a fake email – emails are sent from: "google-my-business-noreply@google.com" or "googlemybusiness-noreply@google.com" or "businessprofile-noreply@google.com"
2. When clicking on the "Review request" button, you should be forwarded to an URL similar to the below:
3. Next step, you select "Reject request" that appears on the dashboard

If you delay more than 3 days to reject it or some other user gives access, the scammer can take control of your listing and remove you from the account and change all account details.
Also beware, the scammers may ask the verification card and call the business after few days advising they are from Google and asking for the code, so I would alert your client to not provide any code over the phone.
For what purpose they are doing this you may ask, normally 2:
Ask for money to relinquish control back to you
Change phone and website details to capture your leads
Request Google Business Profile Access/Ownership Scam Notices
January 2021– Another Scam affecting many Food businesses. Scammers are using an email for Touch2Success.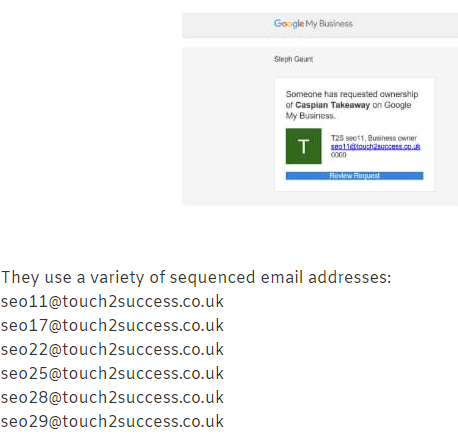 You can read this cautionary tale here.
To learn the latest about Google Business Profile (Google My Business), you should check these articles: