New Pickup Buttons in Google My Business Listings
Google is now showing a new button: "Order Pickup" in some local listings:
How can listings get this button?
Appears to be in testing phase but I have my suspicions:
Local listings where the restaurant or business offers curbside pickup
Listings in US and Canada at the moment
If you have the option "Order ahead links" in the Info tab , like below:
You will be able to integrate Your Google My Business with Video Conferencing
Google added to some Google My Business profiles the option to integrate your listing with a Video Conferencing Solution provider. However…
Those listings with this option will see it in the dashboard, you will have a new box advising "Connect in real-time, with video. Grow your business and reach more customers, when you use video conferencing providers."
When you press "Set up now" you can choose between 4 online video chat service providers:
Google Meet
Webex
Skype
Zoom
However, when you press on a provider only sends you to that service provider's website…
Update 17 September 2020:
Google told Greg Sterling: "This functionality is a further extension of our online services announcement earlier this year. Merchants can already note on their Business Profiles that they offer virtual services and add links for booking online appointments. We're testing some new functionality to help merchants easily get started with video conferencing providers so they can begin offering virtual services. There's no change to what's displayed on the Business Profile."
Still not a clear explanation, I will keep updating this article on new developments.
Update 09 October 2020: Under the "Bookings" tab there are specific providers in a section called "Take your services online – Manage your bookings for online classes and appointments through a provider with video integration"
How to
You need to offer your services online, to activate this you go to your GMB's dashboard and under "Stay Connected during COVID-19" select the type of online service you want to update (Online classes / Online appointments / Online estimates). Check more here.
Conclusion on this Google My Business Update
So I believe this feature was launched half-baked. But this probably means that Google wants to connect Google My Business listings with Online Services end to end.
Hopefully, customers will probably be able to book the service on Google and connect the customer with the local business through the listing, if video chat is used for the service booked.
Google Shopping goes Local with Google My Business integration
Google now is bridging further the online and offline world of shopping. Merging Google Shopping/Google Maps/Google My Business.
The location info comes from Google Maps, the business info comes from Google My Business profile and product info is based from product data uploaded to Google Merchant Center.
With the new capabilities, customers can find items they want to purchase nearby their location. Also, it will advise on local shops offering curbside pick up, for safe shopping. So customers can support small local businesses easily and safely.
Other features:
Local businesses opening and closing hours
Distance to each store
Carousel with products matched up, photos and respective prices
Products Availability Filter, in-stock or out-of-stock
Driving directions one click way
Click to call to confirm product availability, shop hours, etc
So the BOPIS (Buy Online Pickup in Store) features released a few months ago are getting an upgrade to include small local businesses.
Update 01 October 2020: Free Shopping listings will be available across countries in Europe, Asia, and Latin America from mid-October 2020 as confirmed by Google.
How to search for products sold nearby
1. Search "Item"+"nearby" or go to Shopping tab and click on the nearby filter
2. You can check on each listing: availability, operating hours, curbside pickup, distance, driving instructions
Conclusion on this Google My Business Update
Great news for small local businesses! Allows you to compete with ecommerce shops and Big Retailers as a big percentage of shoppers prefer pick up locally from a shop than wait for the delivery of the item.
The only downside, it is time consuming setting up and maintain this feature. As you will need to connect you Google My Business listing with Google Merchant Center and upload your product list to the latter and keep it regularly updated. Tip, do not forget to opt-in to the Surfaces on Google program.
Google Maps New Reviews Attributes implications on your Google My Business Profile
Last year in August 2019, we started to see Google testing a new feature during Google Maps Reviews process. Not only customers could add a star rating and leave a comment, but they could also select attributes within a set number of options.
Fast forward to 2020 and it is not anymore a test, it has been rolled out to most business categories and countries.
We now understand that the set number of options available as attributes to choose from depends on the star rating and business category. Example:
Plumber:

1-2 star rating- "Not professional" "Poor quality" "Poor value"
4-5- star rating – "Professional" "Good Quality" "Good Value"
On your google my business profile, these attributes will appear underneath the star rating of the review:
If it is a negative review (1-2 stars) will have the subheading "Critical".
If it is a positive review (4-5 star) will have the subheading "Positive".
As you noticed no attributes are appearing for 3 stars reviews as probably is too much on the fence for Google.
Google sends now Business Profile Suspension and Duplicates Email notifications
Yes, until recently Google would not send an email advising that your Google My Business profile was suspended or you have duplicates. You would only notice that your listing was suspended/has duplicates through warnings in your account upon login.
But due to EU law changes, Google was forced to change the way notifies business owners and started to send these emails, something for most us would appear to be intuitive for them to do it anyway.
And does not affect EU only based businesses, Google decided to roll out to all countries as far I am aware. Only account suspensions (Agencies/10 + locations businesses) notifications are exclusively for Europe.
And yes, you still have the warnings in your account.
Conclusion on this Update
Hopefully, Google will learn the lesson and be more transparent with business owners so they solve these issues as soon as possible, as these issues have a massive impact on Businesses.
Google My Business Product Editor has changed
Google My Business Product Editor changed its visual but also changed the way it orders the products.
How to
Just go to the "Product" tab of your Google My Business account (some business categories don't have this feature).
In my opinion, visually it is cleaner with 2 quite self-explanatory buttons at the top: "Add Product" and "See it in Google"
Previous designs:
But they botched the flexibility by making difficult changing the products order, to change the order (position) of your products you need to… Well, I will let Google explain:
Recently edited products and categories display first in the Product Catalog. To showcase a product, make a minor update to the item to bring it to the top of the catalog.

Google My Business Article
Conclusion
Why?! You cannot change the order of your products as you wish…
At least old listings are starting to get this feature as well.
If you have products, you "must" use this feature as Google is adding BOPIS (Buy Online Pickup in Store) features as per recent Google Shopping Update.
With all the new updates and future releases, Products are getting dedicated search results space, thus improving your chances of getting customers for your products.
Google updates Google My Business Posts with Messaging button
Google started to add a Message button to the posts, I am seeing this when users check your listing on the mobile phone.
I am not sure if it is a test or if Google is rolling out to all listings and devices.
However, I am sure that only businesses with "Messaging" activated can have this new feature. So if you don't have messaging active, I will show you how you can activate it, but don't forget to check the "Messaging Guidelines".
Update 26 November 2020:
I am seeing this feature now on Google Posts section of the Live Google My Business profiles as well. So definitely Google is launching this feature to a wider number of profiles
Conclusion on this Google Business Update
You should take advantage of all the ways Google provides to your customers to contact you. Note, that you need to respond to messages within 24 hours.
Google My Business allow now up to 10 appointments/Reservation links on Profiles
Google released a new feature for Google My Business listings, you can now add up to 10 "Book an appointment"/"Make a reservation" links. Until recently you could only add 1 link.
Also, you can choose the preferred link and will be labelled on your Business Profile on Google Search and Maps as so. Appears to be available across industries from personal and home services to restaurant reservations.
How to Add Appointments Links to Google Business Profile
Login into your account
Go to the info screen
Go down to "Appointment links"/"Reservation links" and press on the pencil to add a link(s)
In the box, input the appointment/reservation link
To add another option, click on "Add Link"
Select the preferred one by clicking on the star next to the link's box
Click apply and check the results on your profile
Conclusion on this Google My Business Update
Google released something similar for food businesses' order links, they want to make sure you give enough options to your customers. Making it easier to get their custom by making it easier to book an appointment.
Why so many options? You can have your own appointment software on your website and/ or use a third parties software, like Facebook Page or Google Reserve Partners. Choice is key so why not.
Also, we cannot forget the fact we will probably be able to integrate your Google My Business with Video Conferencing sometime in the near future.
Google My Business Insights is changing
Quite a few changes are about to happen in how you can check your profile Insights Data and rolling of new metrics, advised by Google here.
This closely relates to Google launching a new way to update your Google My Business listing directly from Google Search or Maps.
Now they increased the number of features you can access when searching for "my business" in Google Search, you find the Insights data under "Promote" » "Performance".
What are the changes:
For now, you can only see "How people interacted with you", split in "All interactions", "Calls" and "Messages"
Sometime in October 2020 (if everything goes right) "Searches" metrics will be available
The rest of the metrics and even new metrics will be added to the "Performance" section in the next few months?!
New metrics: Google is not divulging much but says "detailed reports about searches and the number of people who saw the profile" and "new data that has never appeared on the Google My Business Insights page"
Insights tab will eventually be removed from Google My Business web and app platforms, big change!
Data frequency update will change for a few metrics, for now, Google will change "Queries used to find your business" from quarterly to monthly.
Data will be available for up to 6 months – Great finally!
It will be available in Google Search only for the time being, but it will be available in Google Maps at some point in time
Update 04 Dec 2020 – Some of the above features have been rolled out.
Conclusion on this Google Business Update
Great that Google wants to provide more metrics updated frequently with longer period data sets. The issue I have is the fact that the "new location" appears to be less organised than the "Insights" tab in Google My Business account dashboard.
Also, in my opinion, these latest changes tell that Google is moving away from the web specialised dashboard and app and into Google Search and Maps platform, is it better? Only time will tell.
Google My Business released a new Beta Feature – Call History
This feature has been released in beta, means only a few Google My Business profiles will have it.
At the moment only businesses in the US can avail this option.
According to the official help article, Call History will enable us to keep track of phone calls from your customers on Google Search and Maps. Through your Google My Business account, you should be able to see all calls done by customers, even if you missed them.
If you are one the "lucky" selected to try this feature, you will see the "Try it out" option on the dashboard and receive an email from Google:
If you click on "Try it out", a pop-up box appears asking you to "Turn on call history":
How Google My Business Call History Works
Even though your customer will see your number on the listing, when the customer presses the "Call" button on your Google My Business Profile, Google will use a special forward number to track the call and, at the start of a call, you'll get an automated message: "Call from Google". You cannot turn off this automated message you receive when a customer calls you.
The forward number characteristics:
different phone number than the one on your profile.
varies based on the location from which it's dialled
when possible, the forwarding number will share the same area code or prefix number as your business.
can also be a local number (but not same area code) in your geographic region
if these numbers aren't available, a toll-free Google forwarding number is used.
the toll-free number will rarely be need
The calls details will show up in the "Calls" tab on your Google My Business app (available on the app only).
This section will split/filter calls in "Recent calls", "Missed calls" and more.
The records will be kept for 45 days.
How to turn On and Off this feature:
Updates
16 December 2020 – New Google My Business Call History Report Showing Answered & Missed Calls
Users are seeing this report live in Google My Business under:business.google.com/calls/IDgoeshere
Conclusion on this Google Business Update
Hopefully, this "Call History" feature can be rolled out to all businesses and in more countries, as it can be very useful to track calls and call back customers if you missed a call.
A few questions remain until this feature is released in full, especially if there will be any costs in maintaining the forward number and/or for the service.
Google My Business Chat Support Open
Google My Business Support has a new channel for contacting them, Chat! As GMB Support's Social Media channels remain closed due to Covid and the phone support closed last November, the only option during pandemic until today was an "Email" form.
How to use the Google My Business Chat Support
Go to "Contact us" page
On step 1 "Let's get started" explain your issue in a word or a few words and press on "Next Step"
On step 2 "Confirm issue" you should select one match issue option. A "Recommended" section appears beneath and you should bypass this section and press on "Next Step"
On step 3 "Contact options" choose "Chat" by pressing on it
Conclusion on this Google Business Update
Google My Business users have suffered a few months with subpar Google support. Google is recognising that something needs to change if they wish to get more small business to avail Local ads, Google Shopping etc through Google My Business.
Google My Business New "Place an order" Link
Google added a new "Place an order" link for US Retailers listings. Similar to other GMB links, like Restaurants and Takeaway/Takeout order links and appointment links.
What we know so far:
This update appears to be available only for U.S. Retailers.
You can check if you can use this option by going to the info tab and search for "Place an order link":
Conclusion on this Google Business Update
Like many other updates around Buy Online Pick-up In Store (BOPIS), Google is keen to get the local retailers to use Google My Business and Google Shopping, as competition against Amazon heats up.
Anything that helps to make easier consumers purchase from you is welcomed.
Hopefully, this new feature will be launched worldwide.
Google My Business Upgrade: Google Guaranteed
Google is trialling offering an upgrade to small business owners' GMB profiles: Google Guaranteed Badge!
For certain, this will make your listing stand out and earn you trust from customers.
This badge is not new, it's a crossover from Google's Local Service Ads. The participants of the latter receive a Google Badge after being admitted to the program. A similar process for this upgrade, meaning you need to go through a screening and qualification process.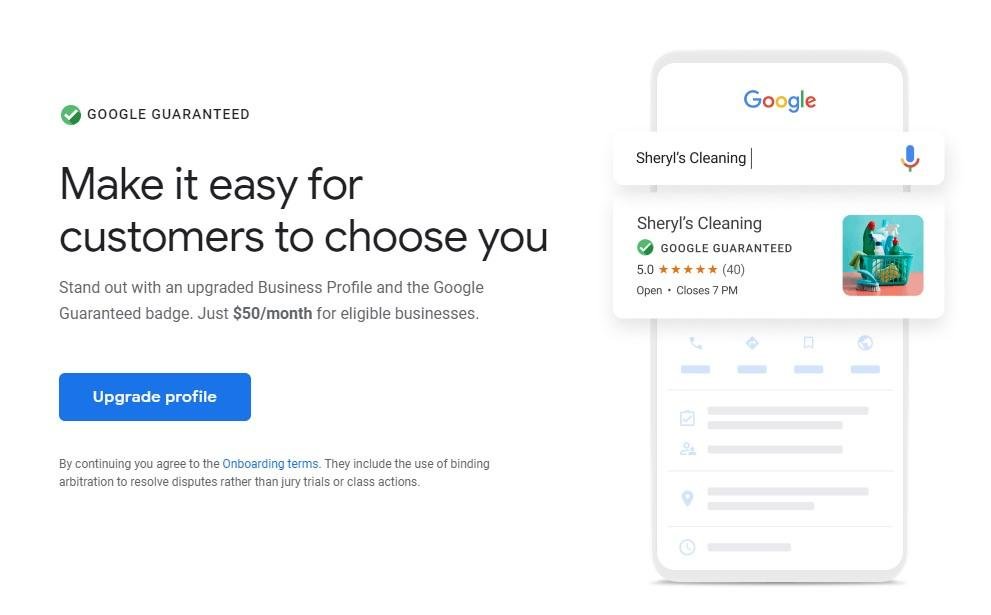 What we know so far:
It will cost a flat rate of $50 per month (another subscription)
You will receive a "Google Guaranteed" badge.
You will need to do a screening and qualification process.
Google will provide some "guarantee on the work", similar to Google Local Services, by providing compensation to customers if things go wrong and are covered by the terms and conditions of the guarantee. Check here LSA Google Guarantee.
This trial phase is only available to very few home service businesses in the US.
If you want to know if it is available to you, check your Google My Business dashboard for the invitation.
New updates
A look at the badge approval stages:
24 Nov 2020 – Google Guaranteed badge starting to appear on Google Maps listings:
21 Dec 2020 – Google is offering an annual subscription plan:
Conclusion on this Google Business Update
If Google Guaranteed will be worth it or not, it will depend on the final rules, competition and ROI. Of course, if most of your competitors have a badge you will be pressured to have one as well, otherwise your google my business listing would look odd and not trustworthy.
Also, if you are not Pre-Approved or your business is in Europe or Canada, you can use a shortcut to receive the Google Guaranteed Badge – Just apply for the Google Guarantee program through an LSA account.
I will end with a question, would you contract someone that Google guarantees the work or the one it does not?
Google Maps New Promoted Pins for GMB Local Ads are Live
Back in June 20, Google advised that it was about to launch new promoted pins for GMB Local ads in Google Maps.
But only now they appear to be live:
How to
If you wish to participate on the promoted pins, you will need to use a Google Ads account.
Conclusion on this Google Business Update
To be honest, I don't know if you will attract more customers with promoted pins as they can pass unnoticed very easily by customers. You can always test it with a small budget.
Google Maps shows Live Food Delivery Orders
Google launched a new feature on Google Maps on mobile, where customers can see their Takeaway/Takeout delivery status live and more.
If you order Takeaway/Takeout through a Google My Business Profile Online Orders Link using Google Maps app, Google Maps will now show the live delivery status of your order.
Also, you will be able to see the wait times, delivery fees, and easily reorder your favourites right from the Google Maps app.
How to
This feature is available:
Countries: U.S., Canada, Germany, Australia, Brazil and India.
Customers need to order from Google Maps App on Android or iOS.
Only available to food businesses that authorised a Google-approved provider to fulfil their online orders.
Conclusion on this Google Business Update
The only issue is that delivery companies take a big cut from restaurants and takeaway businesses so it may be better for consumers but not for many restaurants and other food businesses trying to survive.
Google advised as well you'll soon be able to quickly see the status of your restaurant reservation in 70 countries around the world.
Is Google My Business getting a helping hand from Crowdsourcing?
Google is testing a new crowdsourcing app called Task Mate. Google will pay people to complete tasks, per example taking photos of shopfronts!
The "take photos of shopfronts" task advises the following about it's purpose: "This will help improve mapping services and bring businesses in your local area online"
It's purpose decoded
Concerning Google My Business, I believe Google wants to achieve at least these 3 purposes:
Help root out some of the spammy Google My Business profiles using fake addresses and private home addresses.
Create new GMB profiles for newly discovered businesses.
Add new current photos of businesses so customers can have a better representation of how the business looks like.
However
There are restrictions at the moment:
The app is only available in India
You will need an invitation code to sign up
You will be paid in your local currency once reviewers approve your completed task.
Conclusion on this Google Business Update
Hopefully, this app will start to be available across the world and help the good fight against Google My Business spam/fake profiles.
Google My Business "Suggest an edit" feature changes place on mobiles
Google has moved "Suggest an edit" feature place from the main body of the Google My Business Profile into 3 vertical dots at the top of the profile for mobile searches.
Until now when you search for a place using your mobile phone you would see the "Suggest an edit" underneath the main information details, as per below example:
Now you will find it inside the 3 vertical dots, as per below example:
Conclusion on this Google Business Update
This feature is important to combat Spam/Fake profiles on Google Maps, as you can use it to report problems with that profile to Google.
But Google is making it harder to find for the sake of adding a bit of space to the local profile. Begs the question, is Google serious about Spam?