Unfortunately, It's not straightforward as you cannot edit the Product Category Title directly, but there is a way!
Steps to edit Product Categories Name on Google My Business
Click on "Products" on the left-hand side main menu
In the "Products" Section you will see all your products and each "Product Category" on the menu bar after "All products".
Click on the Product Category you want to change
As I said in the beginning, there isn't an easy way to change the category name as it should be…
The "work-around" is to move all products to the new category, as I will show you how:
Set the New Product Category Name
1. Press on a Product (in the old category) to edit it
2. Click on "Select a category" » Create New Category
3. A new field will appear to write the new Product category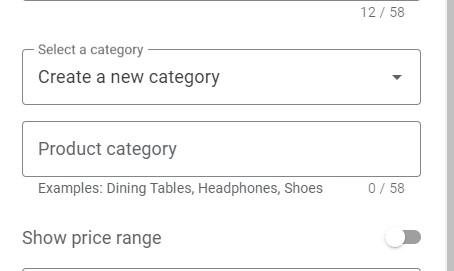 4. Press "Save"
You should now see the new Product Category on the menu bar:
Move all Products over to the New Product Category Name
Now you go to each of the remaining Products and edit it:
1.Press on a Product to edit it
2. Click on "Select a category" and choose the New Category
3. Press "Save"
Refresh Products Section Page
When that category gets empty: "There are no products in this category":
You refresh the page and the old category will disappear.
First, you will get the 500 error screen
but when you go back to the Product section you can see the new category is there but the old category has been removed from the menu bar:
Steps Summary:
Create new category » move all products » refresh page
Conclusion
It's unnecessary "complicated" but it is the only way to edit/change Product Category Name at the moment. Hopefully, Google will change this soon.
If you want to know how to use Google My Business Products feature to its full potential, please check my Google My Business Training– GMB Empower.
Be Remarkable!
To learn the latest about Google My Business, you should check these articles: