What is it
Some Google My Business profiles have new attributes options for Health & Safety. Of course, these are directly related to Covid-19 pandemic and are available in multiple countries and languages.
The new attribute options that I came across are:
Appointment required
Mask required
Staff get temperature checks
Staff wear masks
Temperature check required
They are appearing now on Google Search and Google Maps Listings on both desktop and mobile (14 Sept 2020)
How to
How to add Health & Safety Attributes to your Google My Business
1. Sign in to your Google My Business
2. Go to the "Info" section
On the left-hand side menu, you click on "Info"
_
3. Find the "Highlights" feature and press on the pencil
This feature should be under services
_
4. Under "Health & Safety" select the attributes applicable to your business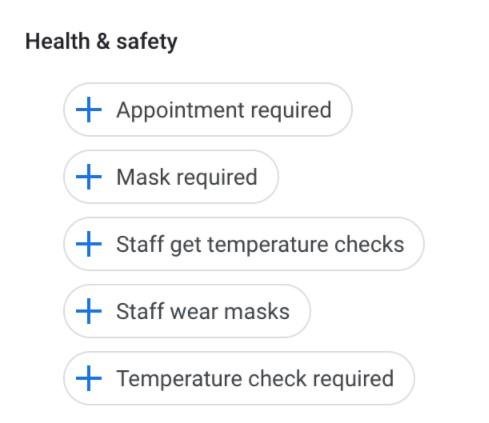 Just click on each attribute
_
5. After adding all attributes, press on "Apply"
Conclusion on this Google My Business Update
These attributes are important to inform your customers, avoid confusion and create trust, similar to "More hours" feature.
An informed client is a better client.
Be Remarkable!
References:
https://support.google.com/business/answer/10071883
https://www.seroundtable.com/google-my-business-adds-health-safety-attributes-30091.html
https://searchengineland.com/local-businesses-can-highlight-covid-19-health-safety-measures-with-google-my-business-340453