In this page you will find news and updates for Google My Business:
New visuals
New tests
New features
GMB News/Updates Timeline
May 2021
Google My Business Site Insights
If you are using the free Google My Business Website you are able to check insights for the website by pressing on the info icon next to the "xx people visited your site"


"Business Profile performance" report includes the number of completed bookings
Stefan Somborac discovered a new Google My Business change, the new "Business Profile performance" report should start showing the number of completed bookings, if you've set up bookings through a provider.


Google My Business Contact Form Change
Allie Margeson found a change on the Google My Business Contact Form, you can now select which business you need help with when using the contact form.
I can see this change so it should be mean it's a wide roll-out change.


April 2021
Google My Business Clarifies Phone Numbers Not Allowed In Google Posts
This new policy is named Phone Stuffing and Google wrote "To avoid the risk of abuse, we do not allow your post content to include a phone number. You can make your phone number available on your Business Profile or website."
Check the SER's article
"People Also Search For" on Google displays Local Businesses Maps
Google is now able to show in the "people also search for" query refinement feature local business listings and map results. Valentin Pletzer noticed this and posted a screenshot (click to enlarge) on Twitter which you can see here.
Check the SER's article


New Local Links Guidelines
Action-oriented links on GMB (book appointment, make reservation, place order) must point to a landing page that allows the user to perform the desired action. If it's inaccessible (e.g. 404, timeout) Google will remove it. Check here.


New Option to Edit Your Profile on Google Search
Google announced this on Twitter saying "You can now easily edit information on your Business Profile like hours, category and location — all directly on Google Search with an enhanced editor." Check here.


April Google My Business Category Changes
New
Abarth dealer
Building designer

Updated
Resort changed to Resort hotel
Car service changed to Chauffer service

Removed
None

Google Highlights Updates For Business That Have Posted Recently
Joy Hawkins spotted a test that Google is doing on the Google Maps app. It shows a red dot on the Updates .
Check here for more


New Local Finder and Business Profile Test for Services Businesses
Tom Waddington discovered that Google is testing a new style of result in the local pack for certain services categories.
Check here for more


Google Reviews showing "Visited in" dates
Google is showing visit in date by reviewers. Good for review trust. Similar to verified purchases in Amazon.


Reserve Table Displayed in Google Maps
Tim Capper discovered that Google is testing Reserve Table Displayed in Google Maps.


New Food Ordering Section in Google My Business Dashboard
Where before you would have Online orders in your web dashboard, now Food Businesses have Food ordering instead.


Google Tests Local Car Listings From Dealerships
Google seems to be testing launching a new local feature to let car dealerships showcase their local car and auto inventory on Google Search. This follows February update: Google My Business testing a new feature – "Car for Sale"
Check more here


Google Maps now lets businesses specify what materials they accept for recycling
Business owners can add recycling attributes for Maps and Search in Google My Business today.
Check more here


Google Tests Hotel Travel Destination Refinement Carousel
Google seems to be testing a new search carousel that lets you refine your hotel searches for a new destination. Check more here


New Large Competitors Logos on Google Search Autocomplete Feature
Lluc B. Penycate found extremely large logos/favicons showing for "people also search for" results in Google's autocomplete search suggestions.Check more here

March 2021
Possible Google Local Algorithm Update Last Week
Some users and agencies are reporting drastic shifts in ranking on from the 24-25 February

Google My Business recorded a 61% jump in customer calls
During the first half of 2020, Google My Business recorded a 61% jump in consumer calls, from inquiries about open hours to arrangements for curbside pickups. For the 12 months ending June 2020, call volume increased 35% and continues to track 27% higher than pre-pandemic levels

Google Testing 'Estimated Cost Near You' in the Local SERPS
This section appears between the map and the 3 local results. Test appears to be only confined to US and Service businesses. They are running an experiment with Homewyse to surface local cost estimates in local results when users search for select types of home services on Google,


Google enables searches for Women-led businesses on Search and Maps
Users will be able to search for women-led businesses, e.g. "women-led restaurants", "women-led stores". This particular feature is available on Google My Business where women-led businesses can identify as such on their business profile.


Google adds own custom links to the GMB Public Profile's Order CTA
Google has added the local food businesses custom order link to the CTA, you see it on the pop-up box. Previously, Google only showed 3rd party integrated platforms in it.


Google Local Search SERPS Showing Menu Highlights
Google's Local Pack is showing Menu justifications.


Google My Business Profile New "Chat" Button
Google is testing a new button "Chat" instead of messages


Google My Business Profile Test – "Owner" and "History" Accordion Tabs
Google is testing a new accordion on the public profile with "Owner" information (business description) and History (from web sources) as tabs.


Google Mobile Local SERPS 2 Pack only Testing
Joy Hawkins found in the last couple of weeks, Google has been slowly testing a change to mobile search results, changing the local pack to 2-packs in the search results. But it is a very limited testing as not many users are seeing this.


February 2021
Google My Business guidelines Address Changed
GMB guidelines now differentiate between listings at a rented mailbox (not allowed) vs. coworking space. New for coworking space: required that the location "maintains clear signage" and "receives customers at the location during business hours"

Google My Business testing a new feature – "Car for Sale"
Google is testing a new car inventory feed for auto dealers, showing their stock to sale on the GMB listing. Similar to product post but with car industry labels/features.
This test is only allowing a small number of auto dealers in the US.


Google My Business Not Applied Changes Now Offer Send Edit Feedback
The feature seems to allow you to send additional feedback to Google when a suggested edit you make to a Google business listing is not accepted (i.e. not applied) for some reason.


Google Showing Rating Stars in the Reviews Box at Google My Business Public Profiles
Google adds stars to the Review Summary Box on the public profile. It's only a test.


"Available online" filter for some service business search results.
This will filter to only show businesses that have the 'online estimates' service option attribute.


Local Pack SBA Hybrids new Test
If you see your service business (including hybrids that show addresses) displaying no address in the 3-pack or local finder do not worry this is working as intended and is a test. The address still shows when the profile is displayed.
Google Search Local Pack – Coworking Office Spaces Labels
Google is now labeling some businesses that are in coworking office spaces with that label in the local pack search results.


Google My Business Public Profiles showing Staff and Lawyers
Another test by Google. Appears is using website and LinkedIn


Google Testing "Find Results On"In the US
This is a feature Google launched in the European Union after the anti-competitive cases. But now, I am seeing reports of this in the US, maybe it is a bug or a test.

Google Local Searches showing filters for Restaurants
Google is showing a browse by filter that lets you filter down your restaurant selections by type.


January 2021
Google Tests Customized Tabs on the Public Profile
Google began testing new tabs related to the search query and appears to get the information from the business website.


Google My Business Has New Insurance Attribute for Healthcare Providers
Google has advised to its trusted partners information on an attribute that will make it easier for healthcare providers to share information about health insurance networks accepted at different locations or physicians.
You cannot add this attribute manually via the GMB dashboard, you must do it through the GMB API.


Google removes review attributes/places topics from reviews
Users are complaining that some review attributes/places topics like "Professional" are missing.


Google My Business Messaging being attacked by Spam
Spammy SEO companies are spamming through GMB messaging.


Google My Business Insights Breaks Photos Uploads By Owner vs Customer
Google My Business has updated the photo views Insights report to let you filter the images based on if the owner uploaded the photo or a customer uploaded the photo.
There is a new drop down to filter by all photos, owner photos and customer photos.


COVID-19 vaccination locations will be available in Google Search and Maps
It will include details like whether an appointment or referral is required, if access is limited to specific groups, or if it has a drive-through.


Google My Business Public Profile Review Summaries Grouped By Place Topics
Place topics are an experimental feature launched in 2019 that help potential customers "find the main themes of your business through Place Topics. These main themes are based on the reviews of your business

Google My Business Public Profile Third-Party Reviews for Summary Cards
3rd party review summary cards for 3rd party sites above the Google Review Summaries


Google Testing Red and White Hotel Pricing Pins on Google Maps

Normally when you search for hotels on Google Maps, Google will show you a hotel search box with blue pricing pins. Google is now testing variations of the colors for those pins both in red and white background colors, and maybe more.

December 2020
New "Suggest an edit" Screens on Mobile
There are new screens showing for flagging locations/spam/closed locations in Google if you use the mobile phone.


Google Testing new Online Store Builder in Canada
For Canadian Business can check here: https://programs.digitalmainstreet.ca/shophere-signug


Google Reviews Tests "New" Label
It looks like Google is testing a new label for recent reviews on businesses. The label says "new" and it is an outlined box. Appears to be for reviews with less than 4 weeks.


Tourist Attractions Getting Large Icons
Not everyone is seeing the landmark icons yet, so this could be a test or a slow rollout. In order to view landmarks, open Google Maps and go to any big city and check if you can see the landmarks icons. This is currently occurring on both desktop and mobile.


Expanded Google My Business Profile Amenities list for Hotels
Google My Businesses released more amenities options you can choose for your hotel listing.


Google Testing New Guaranteed Badge Look
The new look is in keeping with Google logo colors. It is a shield with a checkmark in it, using Google's logo colours.


New Health & Safety Attributes Design
Some Google My Business Listings are showing a new design box for Health & Safety Attributes


Google My Business listings now showing web search results
Go to a business listing in Google Maps and scroll past the business information and towards the bottom, you will see "Web Results."


New GMB Profile Buttons
Google is testing visual changes around CTA buttons on business profiles. On a computer, Google is testing round buttons as opposed to square buttons. On mobile, Google is testing bubble designs for the tabs, instead of simple text with underlines.


Covid-19 related questions asked to users
Google is asking users Covid19 related questions in the "Know This Place?"



Google My Business is New Services Justifications
It looks like Google is testing Services Justifications (icons with text underneath the listing). Service justifications, like the other types of justifications, can have an impact on CTR.


November 2020
Google expanding auction-based pricing to Google Local Services Ads
Google began testing the bid mode option for businesses in home services verticals in some markets in the U.S., Canada, and Europe, which allowed participating businesses to set the maximum amount they are willing to pay for a lead from Local Services Ads.


Google Drops Reviews on Local Pack
Google stopped showing reviews on many Local Searches Pack, eg Banks, Car Wash


Google Adds Google Guaranteed Badges to Google Maps
Google is now showing Google Guaranteed badges on Google Maps. Currently, only appears on computer, not mobile.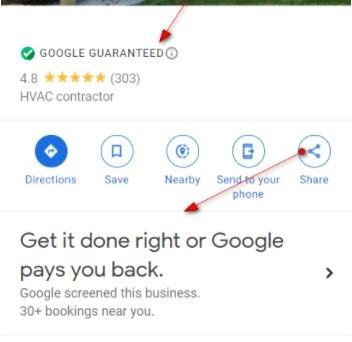 Google Maps Showing Address Numbers Directly on Map
Seems to be available in some countries: US, UK, Canada, Germany, Netherlands, Denmark.
Not in others: France, Italy, Belgium


New Google My Business Dashboard
To learn the latest about Google My Business, you should check these articles: