In this page you will find updates for Google My Business:
New visuals
New tests
New features
GMB Small Updates Timeline
January 2021
Google Tests Customized Tabs on the Public Profile
Google began testing new tabs related to the search query and appears to get the information from the business website.


Google My Business Has New Insurance Attribute for Healthcare Providers
Google has advised to its trusted partners information on an attribute that will make it easier for healthcare providers to share information about health insurance networks accepted at different locations or physicians.
You cannot add this attribute manually via the GMB dashboard, you must do it through the GMB API.


Google removes review attributes/places topics from reviews
Users are complaining that some review attributes/places topics like "Professional" are missing.


Google My Business Messaging being attacked by Spam
Spammy SEO companies are spamming through GMB messaging.


Google My Business Insights Breaks Photos Uploads By Owner vs Customer
Google My Business has updated the photo views Insights report to let you filter the images based on if the owner uploaded the photo or a customer uploaded the photo.
There is a new drop down to filter by all photos, owner photos and customer photos.


COVID-19 vaccination locations will be available in Google Search and Maps
It will include details like whether an appointment or referral is required, if access is limited to specific groups, or if it has a drive-through.


December 2020
New "Suggest an edit" Screens on Mobile
There are new screens showing for flagging locations/spam/closed locations in Google if you use the mobile phone.


Google Testing new Online Store Builder in Canada
For Canadian Business can check here: https://programs.digitalmainstreet.ca/shophere-signug


Google Reviews Tests "New" Label
It looks like Google is testing a new label for recent reviews on businesses. The label says "new" and it is an outlined box. Appears to be for reviews with less than 4 weeks.


Tourist Attractions Getting Large Icons
Not everyone is seeing the landmark icons yet, so this could be a test or a slow rollout. In order to view landmarks, open Google Maps and go to any big city and check if you can see the landmarks icons. This is currently occurring on both desktop and mobile.


Expanded Google My Business Profile Amenities list for Hotels
Google My Businesses released more amenities options you can choose for your hotel listing.


Google Testing New Guaranteed Badge Look
The new look is in keeping with Google logo colors. It is a shield with a checkmark in it, using Google's logo colours.


New Health & Safety Attributes Design
Some Google My Business Listings are showing a new design box for Health & Safety Attributes


Google My Business listings now showing web search results
Go to a business listing in Google Maps and scroll past the business information and towards the bottom, you will see "Web Results."


New GMB Profile Buttons
Google is testing visual changes around CTA buttons on business profiles. On a computer, Google is testing round buttons as opposed to square buttons. On mobile, Google is testing bubble designs for the tabs, instead of simple text with underlines.


Covid-19 related questions asked to users
Google is asking users Covid19 related questions in the "Know This Place?"



Google My Business is New Services Justifications
It looks like Google is testing Services Justifications (icons with text underneath the listing). Service justifications, like the other types of justifications, can have an impact on CTR.


November 2020
Google expanding auction-based pricing to Google Local Services Ads
Google began testing the bid mode option for businesses in home services verticals in some markets in the U.S., Canada, and Europe, which allowed participating businesses to set the maximum amount they are willing to pay for a lead from Local Services Ads.


Google Drops Reviews on Local Pack
Google stopped showing reviews on many Local Searches Pack, eg Banks, Car Wash


Google Adds Google Guaranteed Badges to Google Maps
Google is now showing Google Guaranteed badges on Google Maps. Currently, only appears on computer, not mobile.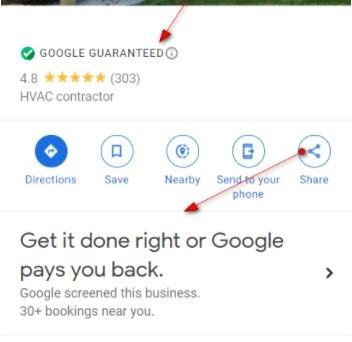 Google Maps Showing Address Numbers Directly on Map
Seems to be available in some countries: US, UK, Canada, Germany, Netherlands, Denmark.
Not in others: France, Italy, Belgium


New Google My Business Dashboard
To learn the latest about Google My Business, you should check these articles: