If you see the "Disabled" notice: "This location is disabled because it contains errors or doesn't comply with formatting guidelines. Contact support to get this location back on Google Maps." – as per the below image: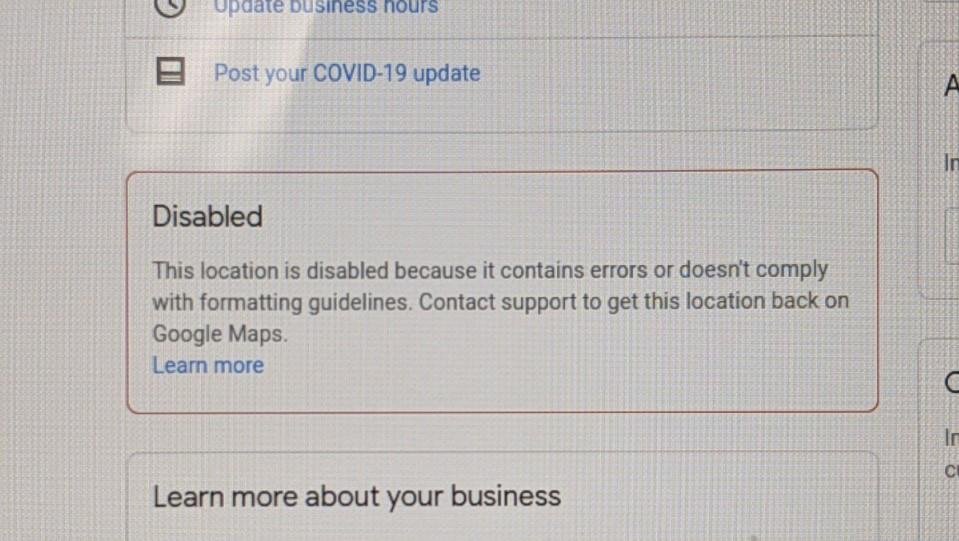 It means Google found something in your profile that violates or potentially violates their guidelines.
This issue is actually the same as the suspension notice issue but it is applied to businesses profiles normally waiting for verification or just verified, but not always.
This is what Google says about disabled Business Profiles: "When a profile violates our guidelines, it's disabled, which means the public can't access the profile anymore."
Why was your Google Business Profile disabled?
Normally, it's a Google AI penalty and the main reasons are:
Finds conflicting information about your business on the web (directories, Social Networks, your website)
Issues with your business name
Issues with your address
Found duplicates
How to Fix a Disabled Google Business Profile (Google My Business) according to Google
Sign in to your Google Business Profile account, then review your profile and make sure it complies with the guidelines.
After you're sure your location(s) comply with the guidelines, you can request reinstatement.
Alternative
I help Business Owners and Professionals reinstate their/clients' Google Business Profiles through a Clinic Consultation or Google Business Profile Support Help Desk service.
However, the earlier I am involved the quicker your profile can get reinstated, because if you fill the reinstatement questionnaire and form wrongly, it can be months before your profile is reinstated or may never get reinstated, unfortunately. I know many cases where this has happened.
Just as peace of mind, I can tell you that I helped reinstate over 500 suspended/disabled profiles (some of them were part of small chains) in the past 10 years, even though I cannot guarantee reinstatement, my success rate is over 95%.
To learn the latest about Google Business Profile, you should check these articles: